About #TravelLive
What do you get with a #TravelLive report?
A lot! #TravelLive real time travel reports deliver content at all levels: real time updates via Twitter and Google Plus; multimedia content on Twitter, Vimeo, Vine, Periscope and audioBoom that provides further SEO visibility; blog articles; online PR and – the best of all – the cooperation with a dozen of german speaking travel websites.
Multimedia, Sensual … and A Boost for Google & Co.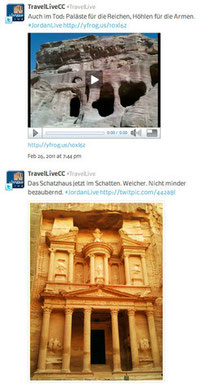 #TravelLive offers an exciting marketing alternative for the tourism industry - destinations, tour operators, hotel chains, cruise lines, event organizers a.s.o. #TravelLive conveys impressions of a destination or an event - sensually, in multimedia and real time.
A #TravelLive report ensures an extraordinary live experience, high attention and synergies with your own social media presence. You also have the right to embed the report with a few lines of HTML on your own website. Therefore the #TravelLive report remains visible over a long period of time.
In addition, a #TravelLive report on Twitter, Facebook and Friendfeed does increase one's visibility on the web significantly. In the case of #AlgarveLive and #JordanLive, distribution on the websites of #TravelLive and its partners, on Twitter, Storify and various online PR platforms provided more than 1,000 Google hits respectively.
Learn more about #TravelLive