#TravelLive – Real Time Travel Reports on Twitter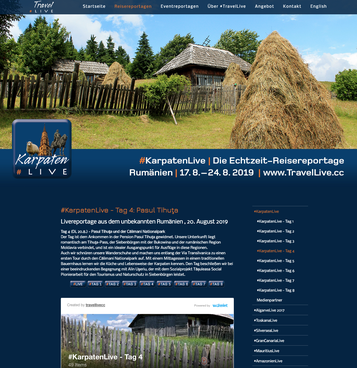 What's #TravelLive?
#TravelLive is the first online travel report live on Twitter – and: it's a completely new way to experience a touristic destination. 
How Does a #TravelLive Report Work?
The Austrian journalist and social media expert Günter Exel visits a country – either by attending a press trip or on his own initiative. His impressions are recorded live on his iPhone and are published via Twitter. Tools like the Twitter Real Time Widget or Storify add a multimedia touch to the story: Through these, Exel's travel impressions can be experienced with texts, photos, video and audio.
Where Can You Experience a #TravelLive Story?
A #TravelLive report is not only published on Twitter twitter.com/TravelLiveCC and on the #TravelLive Blog www.TravelLive.cc: It can be embedded on any website or blog. For instance, #AmazonienLive was taken over by 12 media partners in Austria and Germany such as travel magazines, travel trade publications, travel blogs, travel agencies and tour operators.
Learn more about #TravelLive
#TravelLive - Fact Sheet:
– About #TravelLive
- #TravelLive - the first "real" Social Media Travel Report
- The USP: Real Time Travel Reports on Partner Websites
- #TravelLive - the Offer
- Günter Exel – your Partner for Live Tweeting
#TravelLive
– Links & References
TravelLive_Info_2016_EN.pdf
Adobe Acrobat Dokument
4.1 MB
Interested? We're up for more information!