What's #TravelLive?
#TravelLive is the first online travel report live on Twitter – and: it's a completely new way to experience a touristic destination. 
How Does a #TravelLive Report Work?
The Austrian journalist and social media expert Günter Exel visits a country – either by attending a press trip or on his own initiative. His impressions are recorded live on his iPhone and are published via Twitter. Tools like Keepstream or Friendfeed add a multimedia touch to the story: Through these, Exel's travel impressions can be experienced with texts, photos, video and audio.
Where Can You Experience a #TravelLive Story?
A #TravelLive report is not only published on Twitter twitter.com/TravelLiveCC and on the #TravelLive Blog www.TravelLive.cc: It can be embedded on any website or blog. For instance, reports like #JordanLive or #AlgarveLive were taken over by media partners such as travel magazines, travel trade publications, travel blogs, travel agencies and tour operators.
Multimedia, Sensual … and A Boost for Google & Co.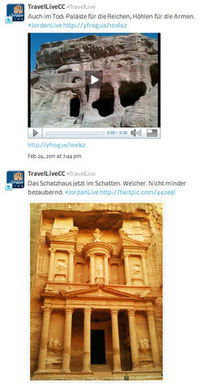 #TravelLive offers an exciting marketing alternative for the tourism industry - destinations, tour operators, hotel chains, cruise lines, event organizers a.s.o. #TravelLive conveys impressions of a destination or an event - sensually, in multimedia and real time.
A #TravelLive report ensures an extraordinary live experience, high attention and synergies with your own social media presence. You also have the right to embed the report with a few lines of HTML on your own website. Therefore the #TravelLive report remains visible over a long period of time.
In addition, a #TravelLive report on Twitter, Facebook and Friendfeed does increase one's visibility on the web significantly. In the case of #AlgarveLive and #JordanLive, distribution on the websites of #TravelLive and its partners, on Twitter, Friendfeed and various online PR platforms provided more than 1,000 Google hits respectively.
#TravelLive – Our Offer for the Tourism Industry
Service and Costs
The costs of a #TravelLive report are based on the effort and may vary by destination / client. We would be pleased to provide you with a tailor-made offer on request! 
A. Preparation and Organization
Operation costs per day (lump sum)
Charge compensation for expenses on travel, accommodation and meals (if necessary)
Charge compensation for roaming fees and WiFi fees (if necessary)
Preparatory / accompanying blog reports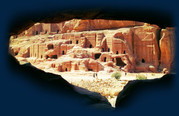 Limited offer: Your #TravelLive report for € 3000!
Introductory price, valid for orders until April 30th 2011
As an introductory offer, your #TravelLive report is now available at special rates! Take the chance and order the following package until April 30th:
Introductory price for the #TravelLive package: € 3000,–
#TravelLive operation costs for 3 days [section B]
Preparation, canvassing and organization [section A]
Additional days (on request): € 800 ,– each
All prices plus tax, charges and expenses [section C]
Live Reports in English or French

Destinations and DMO's may profit from our international orientation: If desired, #TravelLive reports can be translated simultaneously into English, French or other languages. So even if a report is published in German, all travel impressions, photos and videos can be processed almost in real time for the different markets. Therefore, the scope of a single #TravelLive report can be raised many times over!
Interested? We're up for more information!